Kwok Cheuk-kin, a Cheung Chau resident nicknamed the "king of judicial review," has begun a legal challenge over the oaths of pro-Beijing lawmakers Andrew Leung, Regina Ip and Lo Wai-kwok in a bid to block the authorities from "moving the goalposts."
Kwok, who has launched several judicial reviews against the Hong Kong government, also filed legal one earlier this month against Chief Executive Leung Chun-ying and three other pro-Beijing lawmakers. The move came in light of Beijing's ruling on the Basic Law handed down in response to the recent oath controversy which resulting in the ousting of two Youngspiration lawmakers from the legislature. The pair are appealing the decision.
Dual nationality
Kwok told HKFP that Legislative Council President Andrew Leung is a Hong Kong resident without Chinese nationality, thus violating Article 71 of the Basic Law, which stipulates that the legislature's president must be a Chinese citizen and Hong Kong permanent resident with no right of abode in other foreign countries.
Leung was embroiled in a controversy last month after lawmakers challenged whether he had relinquished his right of abode in the UK. Copies of emails from the UK Home Office shown to lawmakers and confirmed by Leung said that he had "renounced British Citizenship."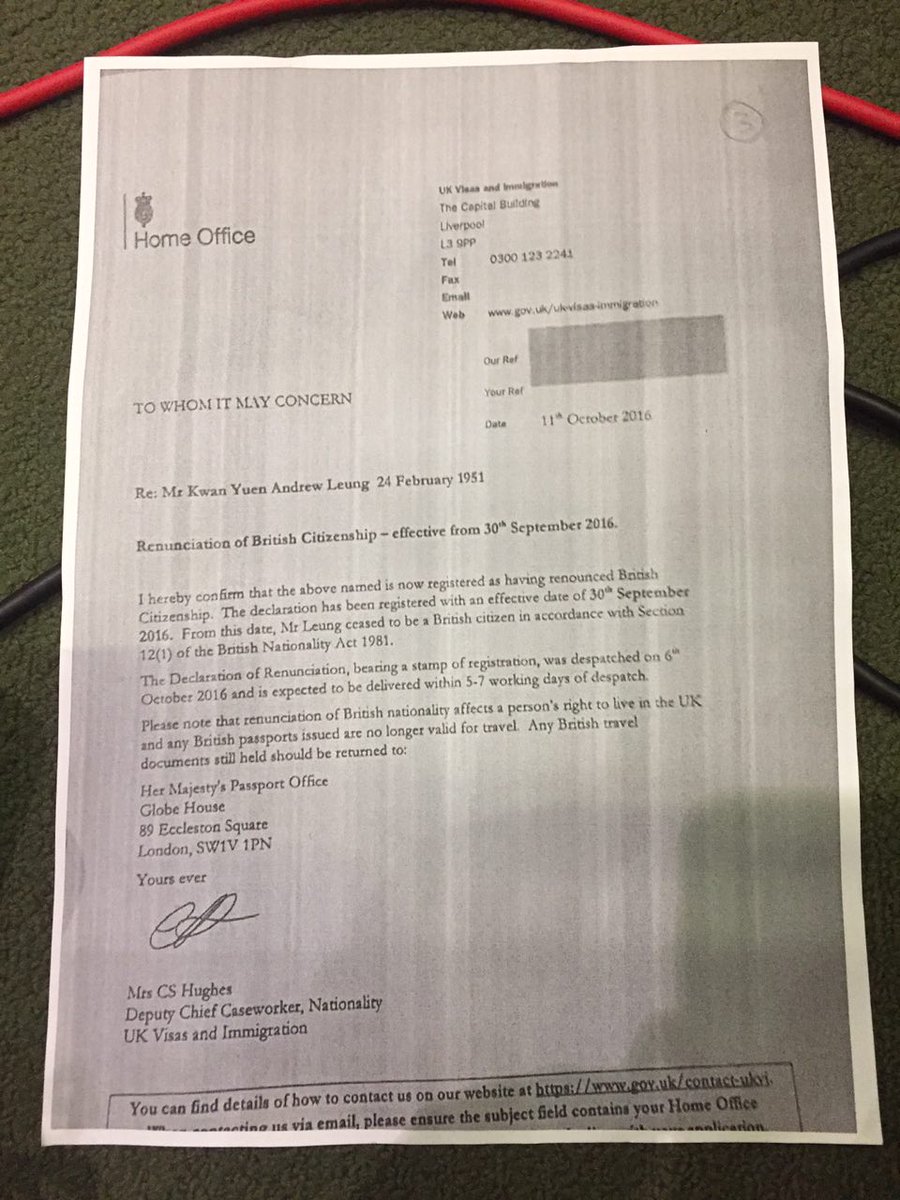 Kwok alleged that Leung does not hold Chinese citizenship owing to Article 3 of China's Nationality Law, which refuses to recognise dual nationality of Chinese nationals. Article 16 states that those who want to restore their Chinese nationality must obtain the approval of the Ministry of Public Security, who will then issue a certificate.
Kwok said Leung has not taken steps to restore his Chinese nationality. Leung is therefore not qualified to be the legislature's president, Kwok claimed.
'Mother country'
The oath of engineering sector lawmaker Lo Wai-kwok – a UK citizen – is also being challenged on a similar basis. Kwok said that Lo had pledged loyalty to Great Britain.
Given that Chinese laws do not recognise dual nationality, Lo could not have "faithfully" sworn allegiance to the Hong Kong SAR at the legislature last month, Kwok said.
Lo responded that he is willing to renounce his British citizenship, and that he merely treats his UK passport as a travel document. "My position is very clear: the central government is my mother country," he said.
Loyalty to the Queen
Kwok said lawmaker Regina Ip had borne allegiance to the Queen when she took office as the immigration director in the colonial government, violating Beijing's ruling requiring public officers to pledge loyalty to "China and Hong Kong." He argued that Ip had failed to "faithfully and truthfully" take her oath.
Beijing added a significant change to Hong Kong's mini-constitution in its ruling earlier this month. The Basic Law requires public officers to swear allegiance to "the Hong Kong SAR of the People's Republic of China." However, Beijing's ruling said that oath-takers must pledge loyalty to "the People's Republic of China and its Hong Kong SAR."
Barrister Martin Lee has warned against the subtle but substantial change of wording, saying the implication would be that Hong Kong public officers are bound by Chinese laws. Under the One Country, Two Systems policy, Chinese laws do not apply in Hong Kong with a few exceptions related to defence and foreign affairs.
'Moving the goalposts'
Kwok said his ultimate goal is to defend the judiciary from Beijing's interference by revealing the problems arising out of its interpretation of the Basic Law.
In ruling in favour of the government last week, the High Court stated that Beijing's ruling applies to Hong Kong's courts, but said that the outcome would be the same "with or without" Beijing's decision.
However, legal expert Eric Cheung Tat-ming questioned whether the court was truly unaffected by Beijing's ruling. Lawyers such as Kevin Yam and Chris Ng of the Progressive Lawyers Group also said the court might have wanted to avoid the sensitive political issue.
There is also a question of whether Beijing's rulings have a retrospective effect, which the court did not address. HKU law professor Benny Tai is of the view that under China's legal system, Beijing's decisions are retrospective, meaning that an action can carry legal consequences despite not being criminal at the time when taken. This stands in contrast with Hong Kong's legal system, in which laws are not retrospective.
"If Beijing's rulings are indeed retrospective, then let's see how far the legal consequences can go back. If not, then Yau Wai-ching and Baggio Leung Chun-hang should also not be disqualified," Kwok said.
"If they want to move the goalposts, I will make things worse to embarrass them," he said. "My goal is to make everyone abandon Beijing's ruling and let the court stick to the existing legal principles, while Yau and Leung can retake their oaths."
Kwok said he has not been told when the court will handle his legal challenge against the chief executive and three pro-Beijing lawmakers.