Expats have given Hong Kong the thumbs down in a survey of the world's best places to live and work, with the city sliding from 10th position last year to 26th in 2015 – way below long-time rival Singapore.
A total of 14,388 expatriates from 170 different nations, living in 195 countries, took part in the survey between February and March this year.
Ecuador topped the list as the best place for expats to set up home, for the second year in a row, followed by Mexico and then Malta. Singapore (4), Thailand (7), the Philippines (18), Malaysia (21) and South Korea (23) all ranked well above Hong Kong.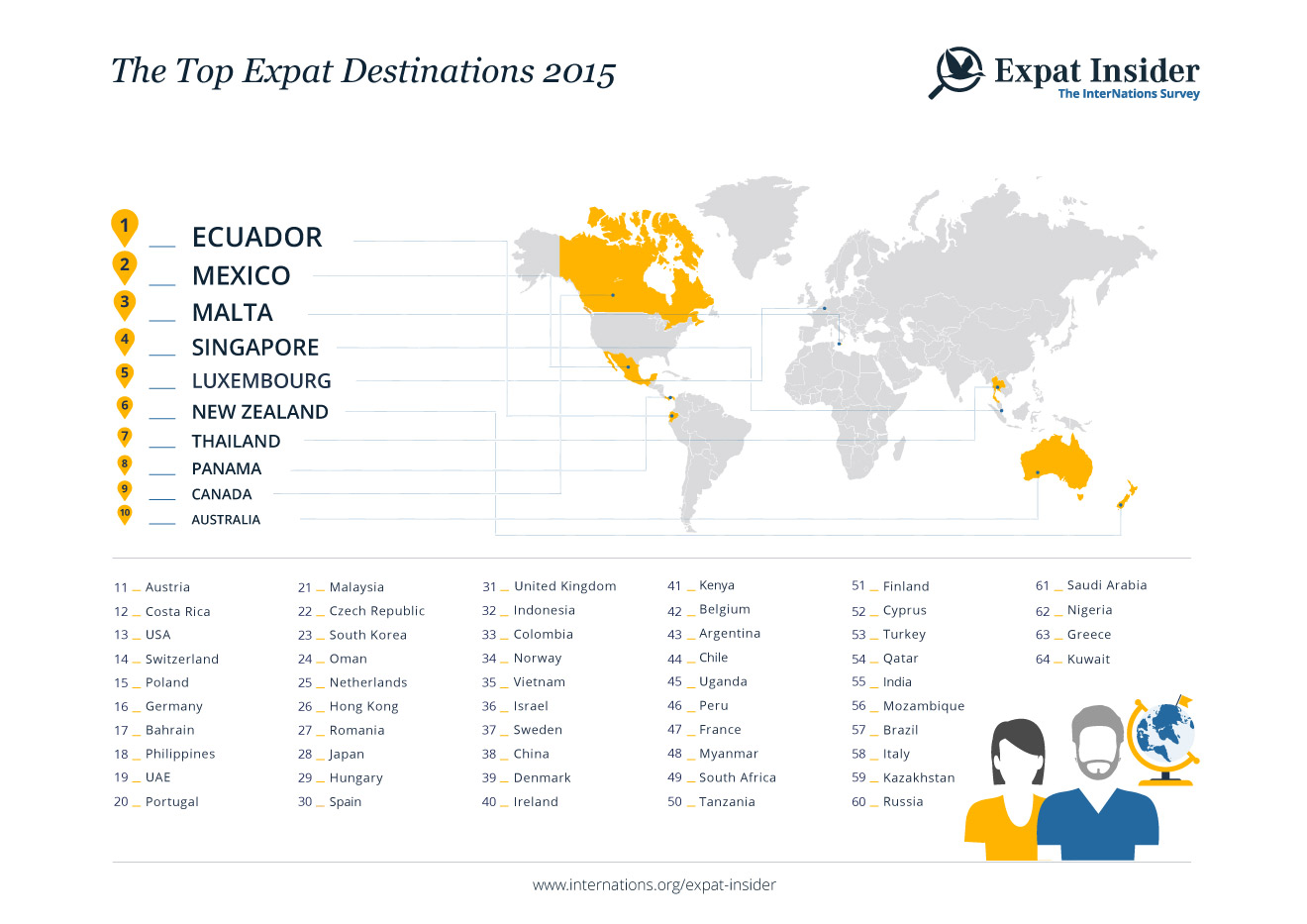 China sat at number 38 on the list.
The respondents, whose average age was 40, were asked to rate their place of residence according to quality of life, ease of adapting to their new environment, the cost of living, family life and work life.
The cost of housing was one of the top issues respondents in Hong Kong complained about, with 54 per cent describing it as "very bad." Last year, 38 per cent of respondents gave the same rating – the lowest on the scale.
The survey also showed Hong Kong was one of the worst places for work-life balance, with expats saying they worked for an average of 47.6 hours a week. Expats in Uganda worked the longest, averaging 50.8 hours a week, while those in Norway had the sweetest deal, clocking in for 40.4 hours.
It wasn't all doom and gloom, however, with Hong Kong topping the list of places where it is easiest to settle. Respondents said they could get by very well without the need to learn the local language.
Expats parents in Hong Kong also said they were satisfied with the quality of education in the city, but not the cost and availability, the survey showed.
Where work satisfaction is concerned the survey revealed a deep gender divide. Hong Kong ranked as the 12th best place to be according to the women polled, but only managed to notch 39th place according to the men.
Last year Hong Kong was ranked at number 10 on the best expat destinations list in a survey carried out by HSBC. The bank has yet to compile its results for 2015.